About
The course itself will challenge golfers of all ability levels. The tee options range from the forward green tees measuring 5,416 yards with a course rating/slope of 69.8/121 to the most challenging black tees which measure 6,943 yards and have a course rating/slope of 72.6/130. The Bearkat Course is proud to host numerous PGA Playing Ability Tests as well as college and high school events throughout the season.
The Bearkat Course is also home to the Sam Houston State PGA Golf Management program, the Sam Houston State University Bearkats, Huntsville Hornets, and New Waverly Bulldogs.
The Holes
Hole 1, 521-422 yd
Reachable in two this par five favors shots from the right side of the fairway. The green provides the challenge on this hole.

Hole 2, 441-381 yd
This challenging par four will test you from tee to green. The playable error is to the right side of the fairway.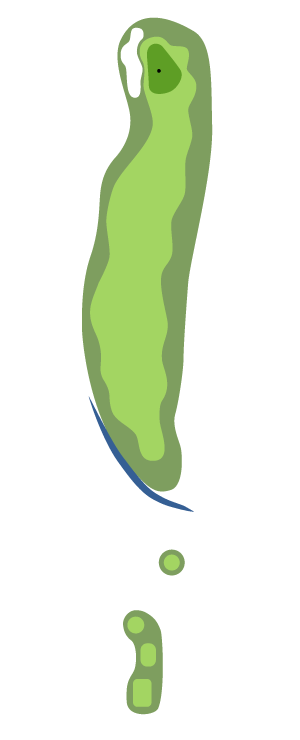 Hole 3, 470-360 yd
Another healthy par four favoring a tee shot played to the right. Trouble surrounds the large undulating green.

Hole 4, 202-135 yd
This deceiving green is longer than it is wide. Additionally the bowl like effect surrounding the green will funnel errant shots.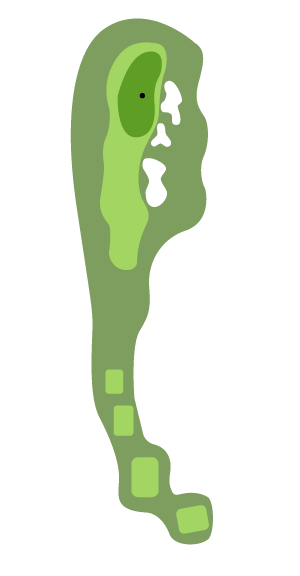 Hole 5, 461-413 yd
Arguably one of the prettiest holes on the course. A bold carry over the fairway bunker will be rewarded with a short shot into the green.

Hole 6, 174-100 yd
A welcomed relief comes in this shorter par three. The green provides challenges with undulations from back to front and left to right.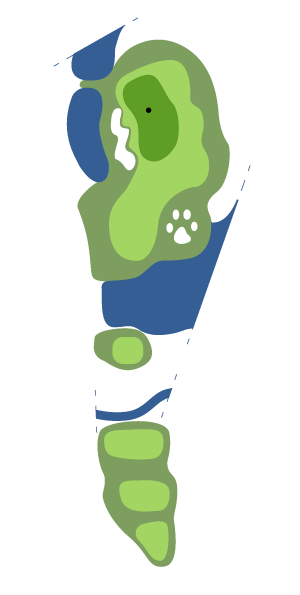 Hole 7, 409-282 yd
Position from this tee is rewarded over length. Longer hitters may attempt to carry the bunker on the left side.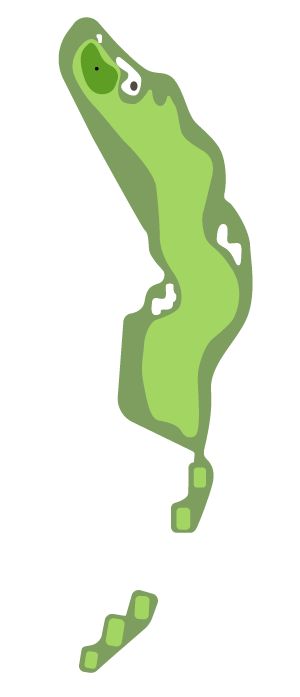 Hole 8, 158-100 yd
This straight forward par three is a welcomed birdie opportunity. A sloping green from front to back will punish a low shot.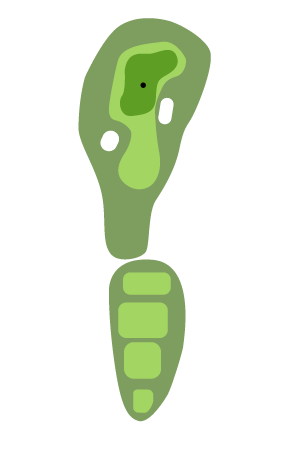 Hole 9, 509-383 yd
Well managed shots will be rewarded with the chance to score well. Play to your strengths in positioning yourself throughout this hole.

Hole 10, 422-335 yd
Fairway slopes left to right. The uphill shot to the green requires plenty of club.

Hole 11, 441-381 yd
Straight forward par three. The difficulty lies on the green, balls collect to the back right portion of the green.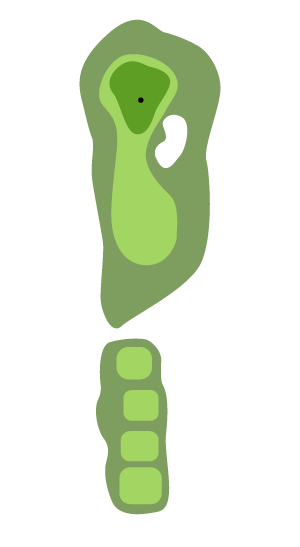 Hole 12, 436-354 yd
Slight dogleg to the left. The tee shot will roll from left to right. Green is bisected from right to left by a subtle ridge.

Hole 13, 475-376 yd
Challenging par four. The bunker on the left side of the fairway may come into play off the tee for the longer hitter.

Hole 14, 532-421 yd
Reachable in two. This par five is guarded throughout it's length by two creeks. Yardage control is required on all shots played from tee to green.

Hole 15, 467-353 yd
Generally played into a prevailing wind this lengthy par four can be the most challenging on the course. The fairway slopes from right to left.
Hole 16, 335-261 yd
This drivable par four can be very punishing if the green is not reached. Lay up to the left and the green will open to your approach.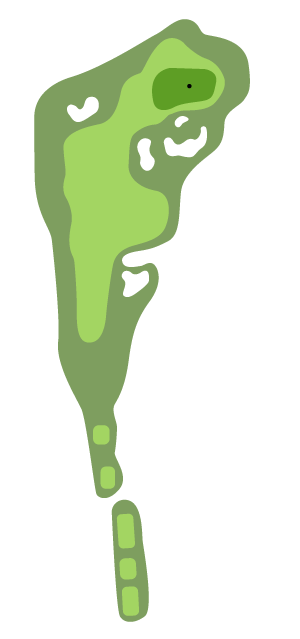 Hole 17, 211-179 yd
A visually intimidating and deceiving par three. The green can be very fast from front to back.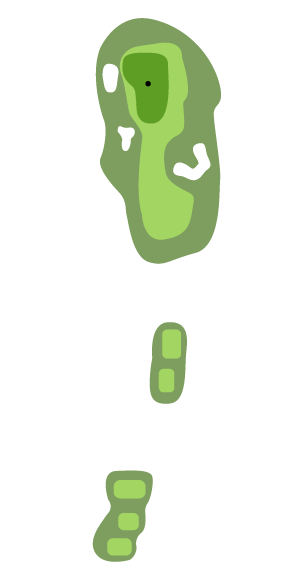 Hole 18, 545-441 yd
Favor the right side of the fairway from the tee. Longer hitters may carry the small pines. Large green undulations require an approach played with trajectory and spin.
Rules & Regulations
Bearkat Course reserves the right to withdraw permission to use the golf course to anyone engaging in the following:
Threatening or abusive behavior to golf course staff or other players.
Damaging the golf course or golf course property.
Behavior that may cause injury to themselves or others.
Failure to follow golf course rules & regulations.
Register Upon Arrival
All players must register in the golf shop. Players must start play from either the first or tenth tee as directed by golf shop personnel. All players must have a valid receipt in their possession during play.
Golf Carts
Golf Cart operators must be at least 16 years of age, have a valid driver's license, and observe posted golf cart usage rules.

Only two riders and two sets of golf clubs are permitted per golf cart.

Private golf carts are not allowed.

When the course is dry, you must use the 90 degree cart rule when driving on the course. Under this rule, carts are allowed on the fairway, but they must maintain a 90-degree angle from the cart path. You must take the cart path to a spot that is even with your ball, make a right angle turn and drive straight toward the ball. Golf carts should remain on the path with the course is wet. You must also lookout for holes that restrict golf carts to the cart path. This includes all par 3 holes.

Golf carts must kept 30 feet from greens and tees. Golf carts must be kept out of native grass areas.
Bring Your Own Equipment
Each player is required to have a set of golf clubs. Sharing sets is not permitted.
Attire
Proper attire is required. Shirts and shoes must be worn at all times. Bathing attire, cut off shorts, halter tops, tube tops, tank tops and similar types of recreational wear are not allowed. Metal spikes are prohibited on golf course property.
Number of Players
The maximum number of players allowed per group is four; no groups greater than four are permitted unless given permission by golf shop personnel.
Repair the Course
Players must repair all ball marks, rake bunkers, and fix divots.
Speed of Play
It is the goal of Bearkat Course Golf Cub to have all players complete their round in a maximum time of 4 hours and 15 minutes. It is the responsibility of each group to keep pace with the group ahead.
Check the Weather
Players should be aware of approaching, impending, or threatening weather. The Course does not have an inclement weather warning or detection system. Golfers play at their own risk.
Food & Beverages
Outside coolers, food, & beverages are not permitted. See The 19th Hole Lounge for food & beverages.

While alcohol is allowed for those 21 and older, players are not allowed to drink to the point of intoxication.
Music
Music can be played, but the volume should be reasonable and not distract others.
Handicap Flag Policy
Bearkat Course Golf Club has the authority to restrict all golf carts to all cart paths at any time, including to those requesting a medical flag. Golfers wishing to receive a medical flag for golf cart usage must have a valid handicap parking sticker issued by the DMV or a doctor's note and must receive permission from the golf shop staff.
If 2 players in the same group are requesting a medical flag, they must ride together.